That icky greasy looking section of the tail that removes from the beauty of your cat or client's luscious tail. It can be just oily, black, or scaly, I have an easy home remedy that works for my grooming clients that is reachable (and in your pantry). Ok, I literally stole mine from my pantry and haven't put it back!
See before and after photos below
What is stud tail?
"A cat has a gland that secretes oils on its tail and this is commonly called 'stud tail' (Supracaudal gland) as mostly seen in entire (un de-sexed) male cats to secrete scents. It may show baldness, flaky skin, oils, blackheads or thinning hair.
The Stud tail will need extra shampoos but you will never be able to remove completely. When drying the cat, you will notice that this patch still looks 'wet', this is the coat oils.
When the stud tail look like open wounds, or more than just a little crusty, please to not over wash as you may cause more problems and advise the owner to get it checked by their vet." Extract from bathing the feline, one of my professional cat grooming online courses.
Help! How do I remove stud tail? That icky tail grease!
You may use a few ways to reduce stud tail. It is impossible to remove completely, and being a natural part of a cat, I wouldn't recommend scrubbing away.
Degreasing method: You may try using strong degreasing agents such as 'Groomers Goop' (oil based) or 'Progroom degreasing gel', but do not do more than two applications, as you can do harm when washing possibly open skin.
Conditioning method: Oil removes oil, right? So using a concentrated conditioner may help remove the oils, then shampoo and condition again.
Soaking up the oils: I have found using corn starch (corn flour) prior to, or instead or a bath, to work very well. Here is my technique below:
Step one: Separate hairs and add the corn starch, using lots! Work it in with your fingers.
Step two: Allow to sit for 5 minutes.
Step three: Using a pin brush, brush excess out, carefully and fluffing up the coat to remove all remnants.
Step four: If possible, hold the tip and shake the tail lightly, so there is no corn starch left. You may then proceed to wash the cat as normal. I found this can keep stud tail from the coat from 1-4 weeks depending on how quickly the body secretes oils. This is a gentler approach for the skin, remembering, what we put in the skin, absorbs into the body, so I prefer to avoid harsh chemicals.
This easy approach can be done at home by anyone, and it's cheap! 🙂

Before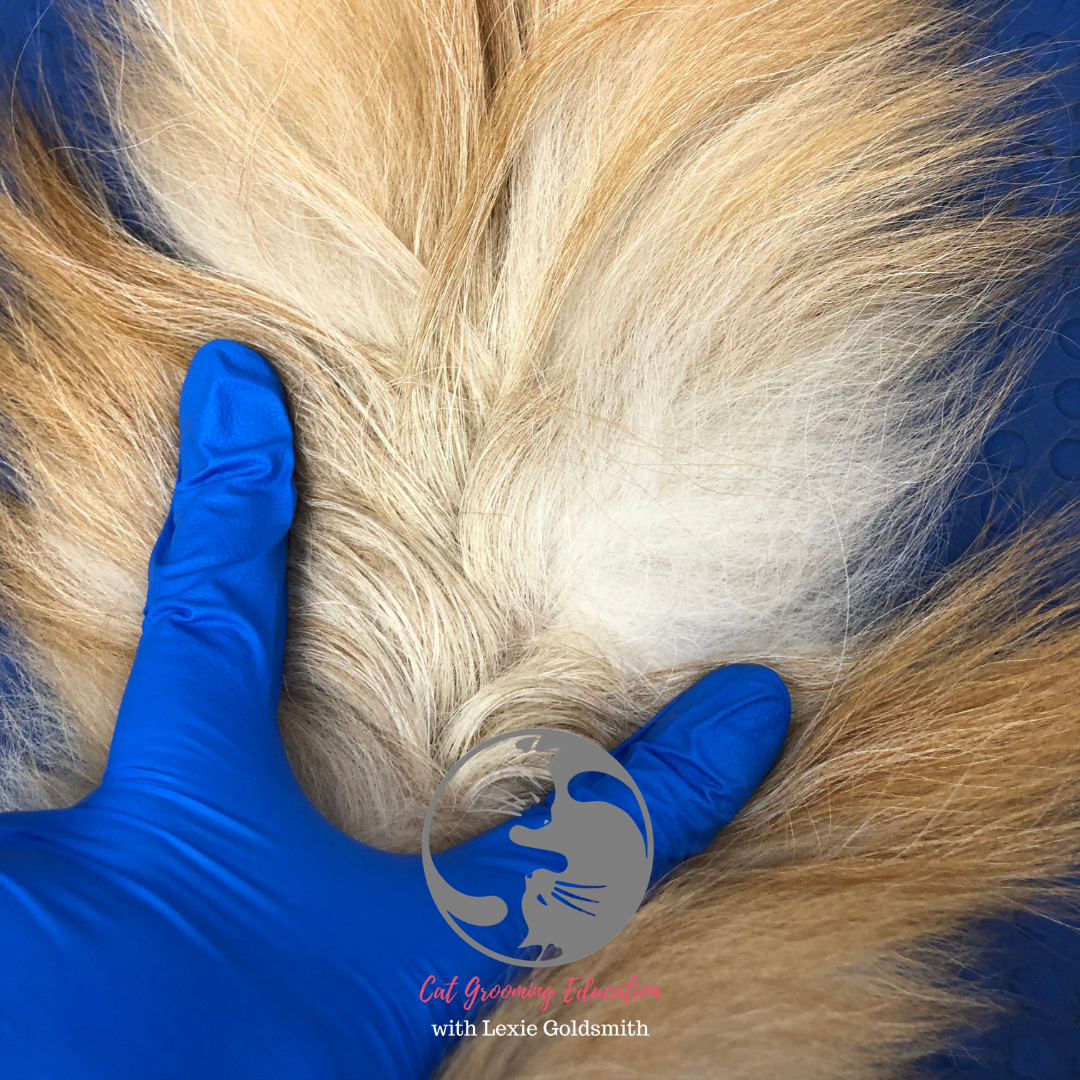 During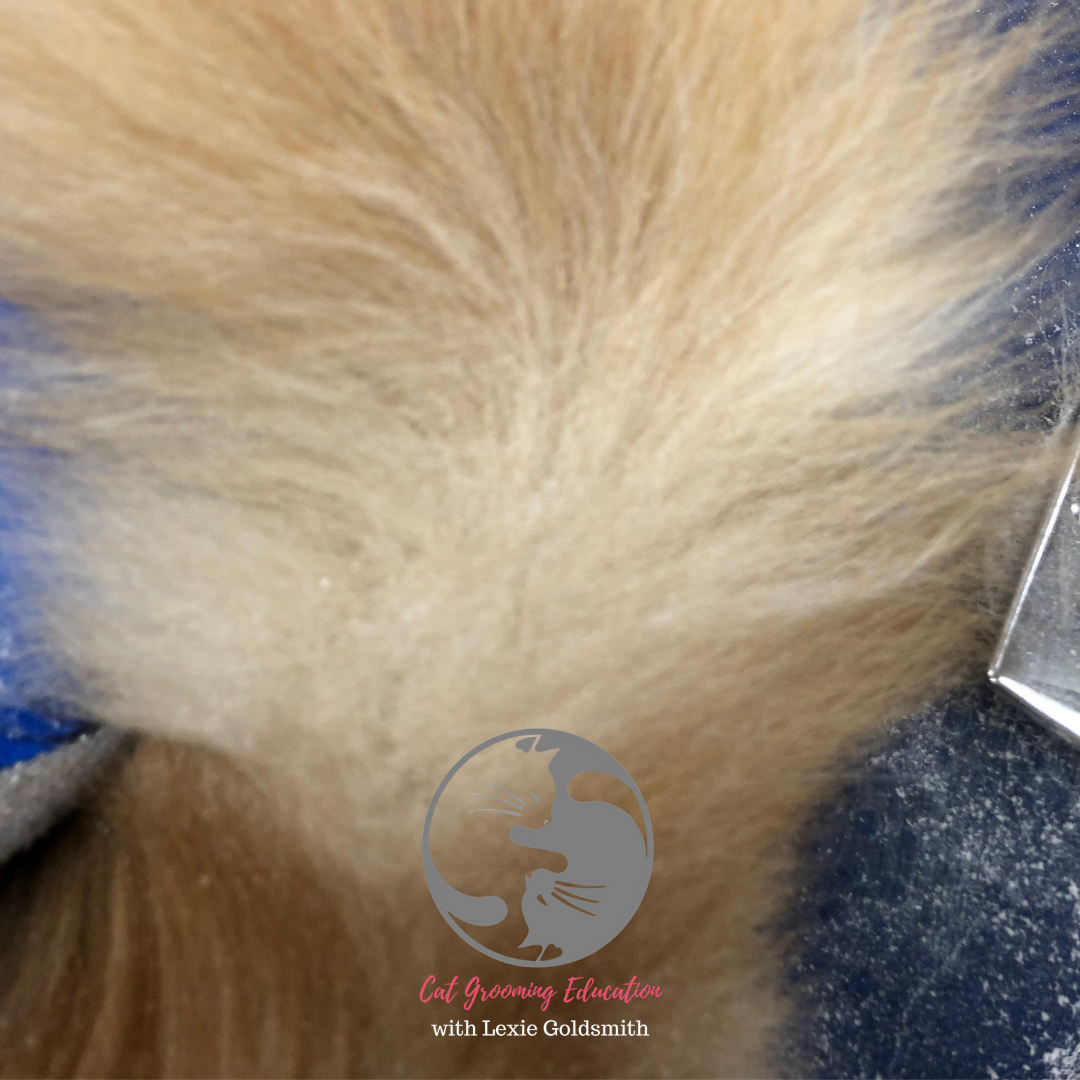 After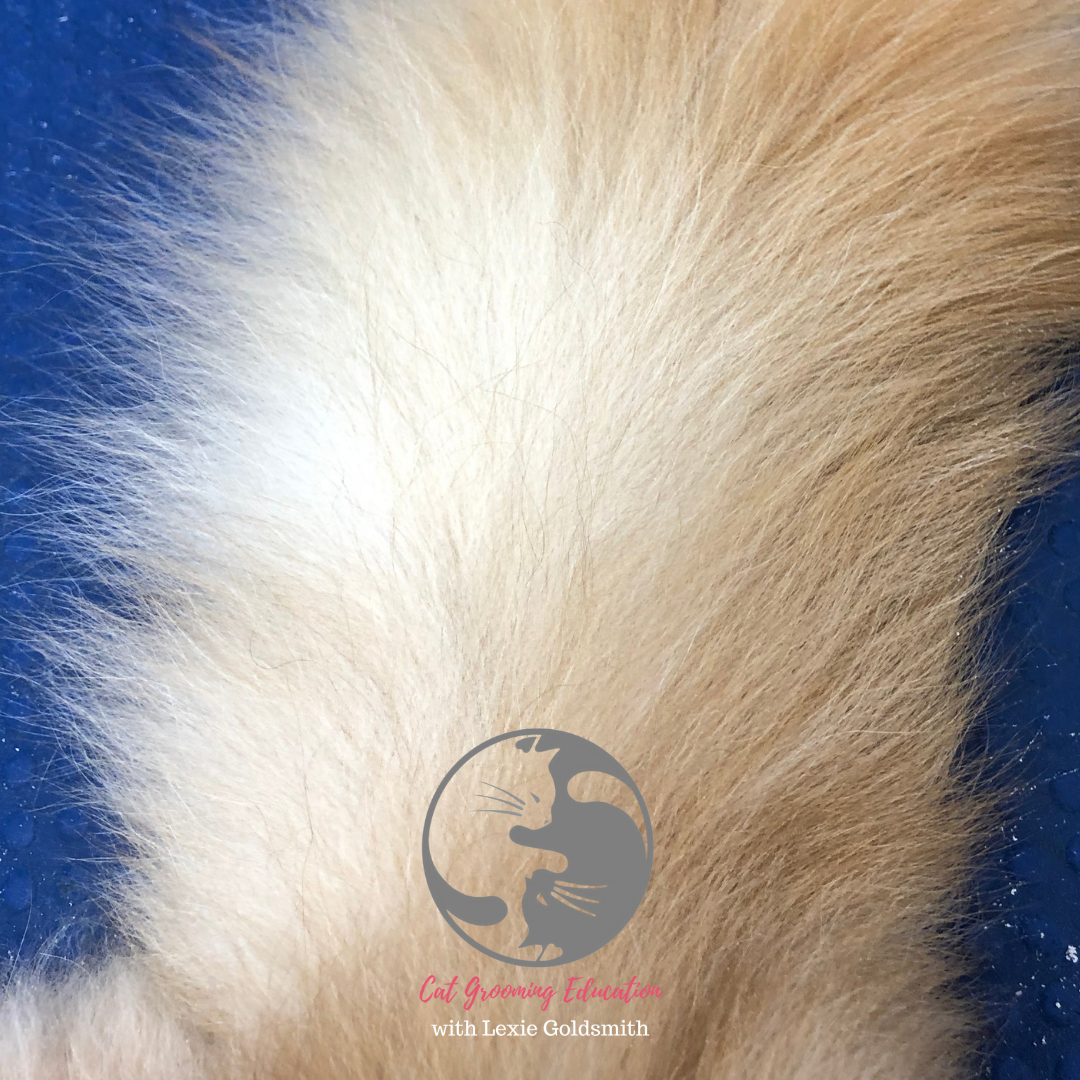 Want to learn more tips and tricks?
Sign up at https://bit.ly/CGEWLSignup
Who am I?
I'm Lexie Goldsmith,
My slow introduction and low stress handling techniques have been proven over 14 years of grooming cats without sedation and many happy clients, being the go-to cat groomer in my state.
I am contacted regularly by people all over the world wanting to learn cat grooming from me, and this makes me excited to see students now grooming cats with my videos, instructions and support.
I am a Qualified Veterinary Nurse, Pet Stylist and Master Cat Groomer, available for your cat grooming education needs.
Come join me on your cat grooming journey, I promise you will not be disappointed, I have a 30day money back guarantee for all courses.
More information on my courses here